System Replacement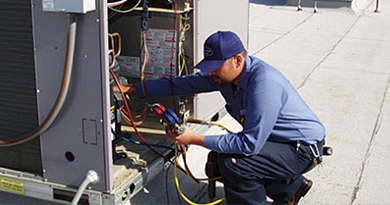 Panther Air will help you select the best system to suit your building needs and your budget. We start by reviewing your existing system, walk the entire building to perform load calculations, and access any air quality concerns. Taking all of this information into account, we take the time to discuss all your system use and design goals. Then our team will advise you on your best replacement system options. Once a system is selected, Panther Air provides a detailed scope of work quote with upfront pricing. We also have financing plans for both commercial and residential projects available, so you can spend your cash on more important things.
Retrofit Upgrade
Aging HVAC Systems lose efficiency, compromise interior air comfort and require more frequent and costly repairs. Retrofitting your HVAC system can be a more cost efficient solution for improving older systems. Utilizing your HVAC network and integrating new components, we can improve performance without having to replace your entire system. Let Panther Air have a look at your system to see if it is a good candidate for a retrofit upgrade!
Curb Adaptation & Cages
Insurance companies are requiring curb extensions and cages on many HVAC systems units to ensure maximize safety and minimal damage. Let Panther Air take care of this hassle for you with our quick installation of custom curb adaptors. We will get you compliant and up and running in no time! Simply show us what units need upgrades and we will take care of the rest. We will even provide the photos of your completed upgrade for you to send to your insurance company.
Why Choose Panther Air?
Experts in VRF & Ductless Systems
Panther Air is proud to employee the most knowledgeable, experienced professionals in VRF and ductless technologies.
Happy Customer Guarantee
We are in the people pleasing business! We are honest with clear upfront pricing. We are never done with a job until you are completely satisfied!
Financing Available

Our convenient financing options give you budget flexibility for selecting the best HVAC system to fit your needs.