Variable Refrigerant Flow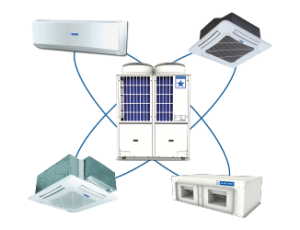 Variable refrigerant flow (VRF) systems are used as an enhanced version of multi-split systems, featuring simultaneous heating and cooling as well as heat-recovery capabilities. VRF systems provide major advantages, such as zoning with individual temperature control, minimized ductwork, and reduced operational costs. This all-electric technology includes a single outdoor condensing unit, multiple indoor units serving various zones or rooms, refrigerant piping with branch selectors, and zoning controls. VRF systems use R-410A refrigerant as the heat-transfer fluid and the working fluid, achieving a very high energy efficiency ratio (EER) of 15 to 20 and integrated energy efficiency ratio (IEER) of 17 to 25. They are 20% to 30% more efficient than conventional HVAC systems due to partial load operation, speed modulation, zoning capabilities, and heat-recovery technology. Reducing kilowatt-per-ton energy input reduces the overall energy costs of the system.
VRF System Operation
The term VRF indicates the ability of the system to vary and control the refrigerant flow through multiple evaporator coils to provide individual temperature control in various mechanical comfort zones. Using direct expansion (DX) as part of the basic refrigeration cycle, VRF systems transfer the heat from the room directly to evaporator coils located within the conditioned space. The refrigerant, serving as the heat-transfer media, delivers heating and cooling to various zones with less energy as compared to air or water. This is accomplished with variable speed and capacity inverter duty compressors, outdoor fans with variable motors, and indoor units with electronically commutated motors.
VRF System Applications
Design flexibility, zone controlled comfort, and improved energy efficiency make VRF systems a great choice for a variety of applications! VRF systems are ideal for commercial buildings where simultaneous cooling and heating needs exist. Schools, office buildings, assisted living facilities, hotels, data centers, historical structures with no previous ductwork, and banks are all great places to utilize VRF system design. Custom homes and home add-ons can also take advantage of the VRF flexibility. Choosing a VRF system can contribute significantly towards LEED certification points with favorable energy performance and significant reduction of energy usage, compared to traditional systems.
Panther Air technicians are experts in VRF system design, install, repair, and maintenance. Contact us today to learn more about VRF systems!
Why Choose Panther Air?
Experts in VRF & Ductless Systems
Panther Air is proud to employee the most knowledgeable, experienced professionals in VRF and ductless technologies.
Happy Customer Guarantee
We are in the people pleasing business! We are honest with clear upfront pricing. We are never done with a job until you are completely satisfied!
Financing Available

Our convenient financing options give you budget flexibility for selecting the best HVAC system to fit your needs.